An orthodontic "appliance" is the "hardware" that an orthodontist uses to accomplish the tasks of aligning the teeth and improving the bite for a patient. An orthodontic appliance can also be used to maintain an ideal alignment after treatment (retainers). Most people think of stainless steel braces as the usual appliance given to someone who is seeking orthodontic treatment. Many people are not aware that there are several other varieties of appliances available to straighten your teeth.
Orthodontic appliances can be classified as "fixed" or "removable". A fixed appliance is one that is attached (or "fixed") to the teeth for the duration of the patient's treatment. Stainless steel braces are an example of a fixed appliance. Removable appliances are worn on the teeth, but can be inserted and removed by the patient throughout treatment (as directed by the orthodontist). An example of a removable appliance would be Invisalign® aligners.
Each individual has unique orthodontic concerns and some people are not suitable candidates for every appliance. The complexity of each case often dictates which appliances can be used. All patients will require more than one orthodontic appliance since retainers are necessary for almost all patients when active treatment is finished. Many patients also require more than one appliance during active treatment to achieve an ideal alignment. For example, some children require an expansion appliance prior to placement of braces.
Although there are dozens of different orthodontic appliances, there are four appliances that I use frequently to accomplish most of the dental correction for my patients. A typical patient in my practice will be given the option of choosing from one or more of the following appliances.
Silver Braces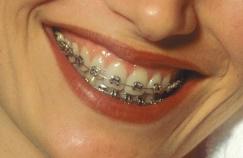 These are the braces that most people are familiar with. They are usually made of stainless steel, which giving them a silver color. Since stainless steel contains nickel, persons with nickel allergies are not candidates for these braces. Patients with nickel allergies that wish to have silver-colored braces can request titanium braces but the titanium has a significantly lower luster than stainless steel.
Gold Braces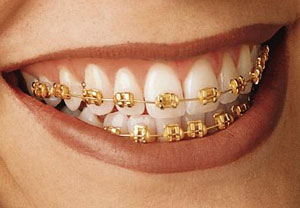 The gold braces used in my practice are plated with 24-karat gold that provides a spectacular appearance. These braces are popular with all ages and genders.
Ceramic Braces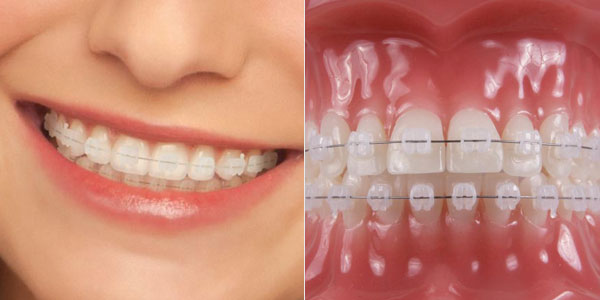 These tooth-colored braces are the least conspicuous of the braces that I offer. Their glazed porcelain surface makes them impervious to stain. Patients can elect to use ceramic braces on their top and bottom teeth or mix ceramic braces on the upper arch and stainless-steel braces on the lower arch. Click here to go to the 3M-Unitek website for more information about ceramic braces.
Invisalign®

As an Invisalign certified orthodontist I also offer the Invisalign appliance to appropriate candidates. Invisalign aligners are used as an alternative to braces. Since they are a removable appliances they can be removed by the patient to eat and brush. The most notable advantage to Invisalign aligners is that they are practically undetectable by others when worn in the mouth. Click here to go to the Invisalign website for a complete explanation of the Invisalign appliance.