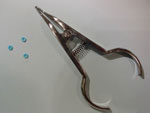 Many patients need to have orthodontic separators placed between a few teeth prior to getting their braces. Here's why. A set of "braces" is actually made of a few different types of metal devices that are attached to the teeth. "Brackets" are the attachments that can be easily seen on the front teeth when a patient smiles…they look like small metal squares. "Bands" are sometimes used on the molars (in the back of the mouth) and are not easily seen. Bands are different from brackets because they completely encircle the tooth. A band on a tooth is analogous to a ring on a finger. Bands are used in the back of the mouth because they can withstand the forces of chewing better than brackets.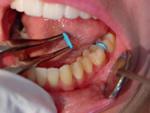 Since a band goes all the way around a tooth, it can only be placed on that tooth if there is enough space for it to fit. To understand this, look at your hand. If your fingers are positioned closely together, it is very difficult to fit a ring on one of them. If you space them apart, then it is much easier to place a ring on one. Now think of your teeth. If the back teeth were touching each other, it would be difficult to place a "ring" (or a band) on one of them. When teeth are positioned too close together, separators are used to "separate" the teeth and create enough space around a tooth so that a band can be placed.
Separators come in different forms, but the most common type can be described as a tiny rubber "doughnut." Since they are flexible, the separators can be placed between contacting teeth where they remain for anywhere between a few hours and several days. Unless the teeth are extremely close, it usually only takes a few seconds to place a separator properly. Once the separator is in place the patient will usually feel a mild pressure between the teeth. The sensation is not unlike having a small piece of food caught between the teeth during a meal. While patients occasionally find this pressure to be uncomfortable, it can usually be made quite tolerable by taking ibuprofen (following the manufacturer's recommended dosage) one hour prior to the appointment. More often than discomfort, patients will notice that a foreign object is now in contact with their tongue. This mild annoyance usually subsides quickly after a good night of sleep and the separators will become less noticeable with each passing day.
Flossing should be avoided on the teeth where the separators are located. Sticky and chewy foods (caramel, taffy, etc.) should be avoided, as these foods can dislodge the separators or become trapped around them. Chewing gum must be avoided for the same reason. If a separator does become dislodged, the orthodontist should be notified during usual office hours unless other instructions were given.